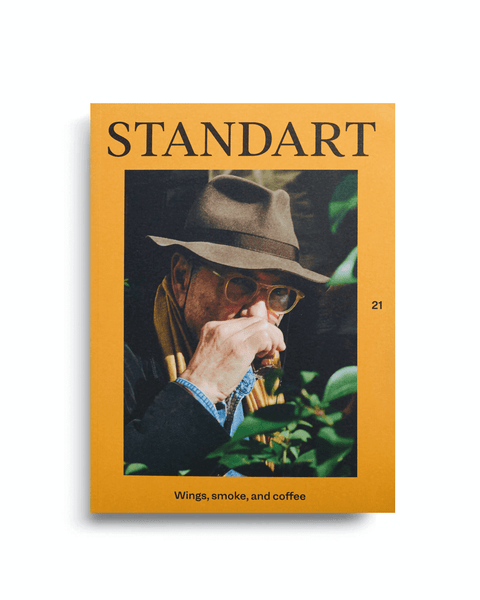 Issue 21: Wings, smoke, and coffee
From the lust-worthy items of coffee equipment, in a photoshoot that pays homage to light erotica, through a sultry short story covering the youthful reminiscences of a wizened coffee shop proprietor, to tracing the history of the dynamic, caffeinated drink in the religiously lazy and ruins-covered Rome, we have a slew of hot stuff for you in the latest Standart.

Issue 21 coalesces around the theme of sustainability, to guide us as we head into a new and better year.

We provide you with a quick cheat-sheet covering facts and easy-to-implement measures to reduce your 'foodprint', while Lem Butler and Kyle Ramage of Black and White Coffee Roasters give us a small insight into how they built and maintain a working relationship that birthed one of the foremost roasteries in the USA.

In this issue's long-form piece, we look at how, and why, coffee companies sell sustainability. We survey the entire landscape, from the rise of corporate social responsibility, to greenwashing, to new initiatives set up to continue to work towards the ideal of sustainable business.
You're in good company
Voted Best European Indie Magazine for 2023 at European Publishing Congress, and four times Best Coffee Magazine at The Sprudgie Awards, Standart is a well-curated, quarterly print publication that explores the beauty and diversity of coffee culture.
We started with a simple goal in mind: to celebrate the culture of specialty coffee through a marriage of great writing and beautiful design.